How Do You Commission Art Of Your Pet?
Pets are more than just animals, they're members of our family. As such, it's no surprise that pet art has become a popular way of showcasing their importance in our lives. Whether you're looking to memorialize a best friend who has passed, or you just want an amazing focal point in your home, getting a personalized commission of art is a beautiful tribute to the fur babies in your life. If you're hoping to commission art of your pet, here are three ways to get you started:
Custom Pet Portrait Website like ILovePaws.com
Long gone are the days of needing to hire a private artist when you can receive personalized custom art from an interactive platform. ILovePaws.com offers custom pet commissions, created by in-house artists at a fraction of freelance art. They offer unlimited revisions, 100% customer satisfaction, and an interactive color coordinator to give you the perfect result every single time.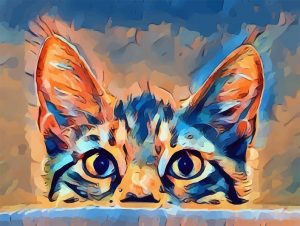 These high-quality portraits are fantastic options for those wanting a customized gift or professional-quality commission, without the expense of paying someone privately. What's even better? You'll receive your proof within 3-4 business days – making it an expedited option to getting your product.
Find an Artist Online
Getting a pet commission online means trying to secure the right artist to do the job. Especially if you have a unique or exotic pet. Online artists will typically be on group platforms such as Etsy, offering custom creations in a specific niche. Make sure you research the capabilities of your artist before purchasing. Not every artist can create a pet portrait for every animal. Also, look at the timeline for completion and any editing capabilities.
If the artist is using physical mediums, there's a good chance you won't be allowed to ask for any alterations. If the individual is using a digital rendering, ask if there are additional fees for making changes and alterations. Be sure to double-check the final product deliverables. Many digital artists will offer a jpeg or pdf file as their final deliverable. Meaning you'll wind up paying to have the image printed or canvased.
Source a Local Artist
While this option is often the most expensive and time-consuming, hiring a local artist is a great way to get a custom pet commission. Find out which mediums (types of product) your artist uses for their images before purchasing. There may be a huge difference in cost for a pencil sketch of your pet and an oil painting. Likewise, the time for completion may vary greatly, depending on medium and current workload.
When you're looking for an artist, always ask to see their portfolio and, whenever possible, ask for references. Unlike online platforms, local vendors will typically go by word-of-mouth referrals, meaning verifying their prior projects can be more time-consuming.
It's also important to note that local artists will typically not be able to provide edits or changes to the final product, especially if using a permanent medium like ink or paint. Always provide multiple images for reference (either digital or hard copy) to prevent any errors due to photo quality. It's always wise to ask if the final product includes framing (or mounting, in the case of canvas) or if that is an additional fee.
Other Considerations to Remember:
Whether you choose a local artist or an online platform, always make sure that the photos you submit for your commission are clear, high-quality, and with a simple background (whenever possible). This way, your artist will be able to distinguish unique markings or qualities of the pet, giving you a more accurate final portrait.
Although different options have different costs and timelines. The most important aspect of any art commission is the ability to take a subject and get the personality and likeness on to the final project. Remember, this is going to be a piece you're going to have in your home for years to come. It's important that you're as happy with the purchase after 15 years as the day you bought it.
Image Source:
https://pixabay.com/vectors/cat-face-orange-blue-pet-feline-4754630/